How to Reverse a Video on iPhone? (Pro Way)
Everyone at times or the other does wish to know is there any possibility on, "How to reverse a video on iPhone?" Or can we find the right blog that will teach us, "how to reverse video in iMovie iPhone?"
Playing videos backward may be a fascinating and entertaining experience. For instance, you are capturing a video that is where the players are on the basketball court, and you make a video showing how the ball is thrown into the net. 
The video might be interesting to watch, but, think for a minute, if you reverse the video you made, it will be more fun to watch it. And, together it will become the trending video at times on the social networking sites, where people will be laughing the making comments about it. 
Aside from basketball on the net, there are various other fun things you can do with a reverse effect, such as reversing a jump, pouring water in a glass, and so on. So, finally, your wait is over. As in this tutorial, we'll go through how to simply reverse an iMovie app on your iPhone.
So, please stick to us till the end to know it out.
How to Reverse a Video on iPhone?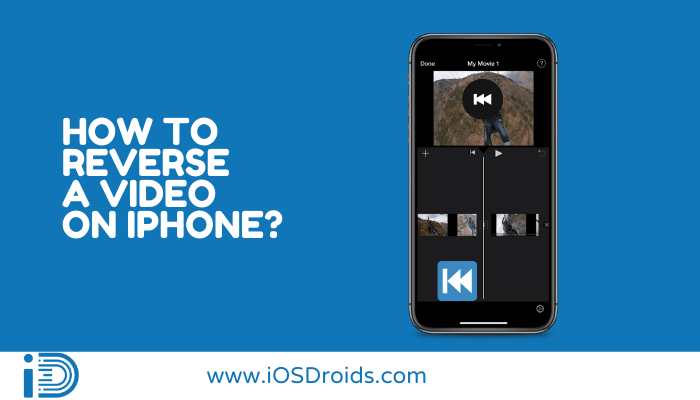 You will find several options all around that will help you in knowing how to reverse a video on iPhone in a great way. Because iPhones lack a built-in capability that allows you to reverse a video. So, if you see to reverse a video on your iPhone, you have two options with you.
One is by using third-party apps and the other is to use an online technique. As previously stated, third-party apps can be used to reverse video on the iPhone. However, instead of installing third-party software on your iPhone, you may do it online.
So, here, I have discussed both ways. This is how to do it:
Way 1: How to Reverse a Video on iPhone without an App
Follow dow the instructions to reverse a video on iPhone without installing any outsiders app.
Firstly, you need to type Ezgif in the Safari web browser.

In the next step, on your iPhone, tap Choose File and select the video you want to reverse.

Now, select the Upload option.

After that, it will now begin processing the video to reverse it, and then reversed video will be ready to download in a few moments.

Finally, simply press the Download button.
That concludes our discussion on how to a reverse video on iPhone without any app on your phone.
Way 2: How to Reverse a Video on iPhone by Installing an App
Here, I have the top two apps that will help you in figuring out how to reverse video on iPhone by installing your reputed and well-known third-party apps. So, quickly pull up your socks and stick to the blog to know both of the apps.
Reverse Vid 
Reverse Vid is turning out to be one of the most popular and recommendable apps in the present times for knowing how to reverse a video on iPhone. Reverse Vid is a simple and free app that allows you to easily reverse a movie on your iPhone or iPad. Here's how you can put it to use:
In the first step, on your iPhone, go to the Apple Store.

In the next step, select "Search," then type "Reverse vid" into the search field and press Enter.

Now, you need to wait for the search in progress. Then, look to install the "Reverse Vid: Play It Backwards" application on your phone.

After it has been installed successfully, open the app and choose a video from your library to reverse play. 

Now as you have chosen the video and recorded the same, you can also change the reverse the playback speed to the video to either 1.25 or 2x speed. You can also preview the reverse video while adjusting and adjusting the speed settings accordingly.

Finally, press OK and wait a few moments for the procedure to finish.
Now, when you complete all the above steps of reversing a video, press the Save button to save the video that you have revered. This video is now saved in your Camera Roll section.
However, If you don't want to install a third-party app on your iPhone for whatever reason, you can reverse videos on your iPhone utilizing an internet technique as mentioned above.
InShot
As previously said, I frequently utilize InShot. It's available for free download and includes a variety of editing tools. Here's how to do that: how to put it to use:
In the first step, go to the search browser and install the InShot application.
In the next step, you need to open the application and choose the video you desire to reverse.
After that, you need to give access to your Photo Gallery folder to review the video you choose.
In that section, scroll down and drag the pointer to the Video Album to select the video clip.

Then, by selecting the scissor icon, you can trim the footage before importing it.

Then, swipe through the Tools Strip until the Reverse option appears (on the right-hand corner).

After that, select the Reverse option.

However, you can change the reverse clip's speed by clicking Speed, or you can add music to it by heading to Music tools > Tracks and then importing any audio clip from your audio library.

Finally, tap Save, then select your preferred video resolution.
The reverse video will appear on your Camera Roll after you tap Save. It belongs in the album Recents.
Because InShot is free, you shouldn't be surprised if your reversed video has a watermark. However, there is also a way to remove the watermark.  
Pro and Booster Tip: How to Successfully Reverse a Video on iPhone?
Below I have discussed two booster tips on how to reverse a video on iPhone productively. Read to both of them.
Tip 1: Remove the Watermark from InShot.  
A small watermark appears on films exported with InShot's free edition. As stated, you can remove the watermark and it is completely free.  
For this, you first need to edit the video, and then in the next step, you need to click on the InShot watermark to remove the watermark from the current video. It is seen to be appearing at the end towards the right corner.  
However, to complete the process wait for some time after you press the option "Free Remove." Then, to save the movie without the watermark, tap the Share button.
Tip 2: App Available Offline.
The app is also available offline. So, to make it workable offline, you need to turn off or disable the Wi-Fi and Mobile Data option from your device. 
FAQs
1. On an iPhone, how can you reverse video on Snapchat?
Ans. On Snapchat, you have the facility of using an always available filter to reverse all your live or recorded videos. To find the feature, you need first make a Snapchat video using your phone, and then drag it down to the page till the time you can discover the three-triangle icon.
As you click on it, it will automatically reverse your live o recorded videos and will even allow you to share with your friend's circles and even on social media platforms.
2. Why can't I use Snapchat 2020 to reverse a video?
Ans. The most common issue is attempting to use the rewind filter on videos that are longer than 10 seconds. However, if you swipe towards the left of the page either after shooting or selecting the video, this feature for reversing the video will not be appearing on your Snapchat profile. 
3. Is it possible to reverse a video in an iMovie on an iPhone?
Ans. Open iMovie on your iPhone and pick the project you wish to work on to reverse a video. Now, you need to choose the video you wish to reverse by clicking on the Media option appearing at the end of the app.
Then, you will be required to select the Reverse option from the Edit menu list appearing on the upper taskbar of the app. 
4. Suggest one way for reversing a video on my Camera Roll.
Ans. Select a video from your Camera Roll to import into the video editor. Then you'll see something like this. There you will find the various tools for editing your video like you can trim, resize, rotate or even reverse your current or recorded video. Select REVERSE.
Related Posts:
Final Words
The apps I mentioned will function on the iPhone, iPad, and iPod Touch as well. My personal preference is InShot as it works gives tremendous results and works even offline.
If you have a Mac, iMovie is really useful and can help you with a better way to create the video in the way you desire.