How To Unblur an image on iPhone? (5 Methods)
Are you finding or searching ways for how to unblur an image on iPhone quickly and easily? You are, without a doubt, reading the correct blog.
Have you ever taken a picture that you thought was flawless only to discover later that it was blurry? Would you rather erase the shot and lose it forever, or strive to make it clearer? This tutorial will teach you how to unblur a photograph on your iPhone.
However, you won't have much luck attempting to deblur a photo that has been intentionally blurred or distorted. Photo blurring programs can only unblur photographs that have already been blurred using their app, thereby reversing the blurring effects.
Instead, this approach concentrates on photographs that are a bit hazy, grainy, or fuzzy, and then attempts to sharpen them to make them clearer. However, here you will know how to unblur a picture on iPhone with a variety of photo editing tools for unblurring a photograph iPhone that too with variable results.
What Causes Photographs to Be Blurry?
The equipment you're using, as well as how you're using it, can all contribute to blurry images. There are a few frequent reasons why you can get a hazy image.
Your Camera's Exposure Time is Set to Long.
If you own a slow shutter speed setting on your device, it will certainly result in a fuzzy picture or image you store.  As a result, what happens is that if you don't pay attention to your settings, your image might blur in as little as 1/80 of a second.
However, if you see as a general rule believed by most professionals, it is said that the longer your lens will be, the faster or quicker your lens should be.
In consideration of this, to remove the blurring effect of the photo with a 60mm lens, a shutter speed of  1/60 or even quicker is required to give the right effect.
You're Using a Handheld Camera
Handheld cameras are preferred by some amateur photographers over tripods. Handheld shots, on the other hand, are prone to camera wobble, especially in low-light situations.
Your Topic is Changing
When photographing a moving subject, a shutter speed that is too slow without stabilization might result in several fuzzy images.
Unless you're trying to express abstract movement with a slower shutter speed, you should raise it to catch fast-moving subjects in greater detail. A shutter speed of 1/500 of a second is the ideal option for capturing action.
To this, you can ask yourself and know if your shutter speed usage is limited to a fraction or even more than that? And, eventually, you will get to this by knowing that a shorter lens will work. 
You're 

Excessively 

Enlarging 

the Image
In this respect, you should be aware and know that using an editing program or app for expanding the image or zooming it out for clarity will make every segment unrecognizable.
In other words, zooming out more than 100% using an app on your screen will certainly over-magnify the image and thereby lacks clarity and soundness in the image.
Don't enlarge your photo over 1:1 magnification on your screen while resizing it.
You're Making Use Of A Filter
Stay away from filters if you're using an iPhone or Android smartphone or a free photo-taking app — at least for the first snap. By applying a filter to your photograph, you may lessen the sharpness and soften the features like photoshop.
Instead, use your default camera app to shoot raw photos. The camera programs on the iPhone and Samsung devices are outstanding, with automated sharpening and built-in editing options.
Unblur your Image With Top 5 Photo-Editing Apps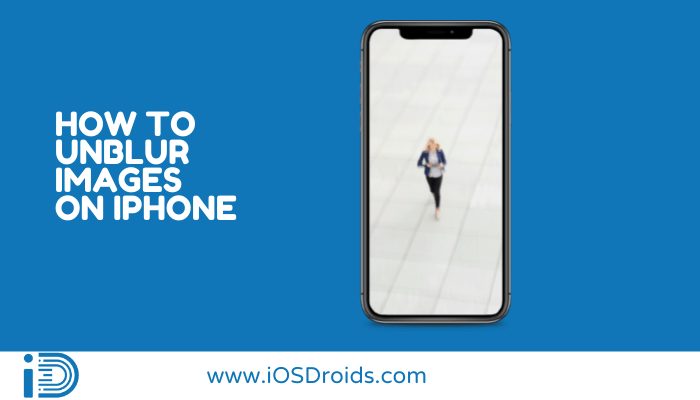 Having said that most of the photos get a blurry effect, however, you will be surprised to know that this blurry effect on your photos can be removed easily. Yes. you heard right!
I am talking about the top 5 photo-editing apps by which your problem will be solved to a great extent. Continuing with you it happens right whenever you capture a fuzzy shot with your iPhone, the first thing you should do is delete it and try again.
Remember that there are a plethora of ways to unblur a photograph on an iPhone, especially if you've discovered the correct software for the job. 
Here you can find an app that will assist you in doing the work quickly and efficiently. So, let's get this party started and how to unblur a photo on iPhone easily and without any trouble!
Use Snapseed to Unblur a Photo on my iPhone
Snapseed is a fantastic photo editor that is completely free. In other words, if you dive deep inside the blog, you will get to know that Snapseed does offer wide features around the photos to improve the picture quality to a great extent.
So, if your shot is fuzzy, utilize Snapseed's photo sharpening tool to make it clearer. Before you go any further, you need first download the Snapseed software from the App Store for free. Use Snapseed to unblur an image on an iPhone, follow these steps: 
Firstly, open the Snapseed app on your device.

After that, press "Plus +" or "OPEN" to import your shaky photo.

Then, you need to go to the end of the screen. After scrolling you need to click on the "TOOLS" tab appearing on your screen.

In the next step, select "Details" from the tools section after that.

Then swipe up to pick "Sharpening" and down to select "Structure."

Now, move the slider at the top of the screen when you pick either Sharpening or Structure.
Once you've improved the clarity of your shot, touch the "Done" tick mark button.
Finally, select "EXPORT" to save your image.
That concludes your discussion. And, you are done with one method of knowing how to unblur photos iPhone!
Use VSCO to Unblur a Photo on my iPhone
VSCO is a fantastic software that will show you exactly how to unblur a photo on your iPhone. It includes several handy and professional editing tools to assist you in repairing your blurry image. 
However, you must first become familiar with how to use some of its functions, since not all of them are user-friendly and require talent.
However, this is one of the greatest picture editing programs available. To use VSCO to unblur an image on an iPhone, follow these steps:
In the first step, you need to go to the Studio View icon appearing on your app. And, after finding the Slider View choose the slider icon from it.

Secondly, choose the small up arrow, go to the slider menu, and select a specific tool.

Then, select the sharpen tool (an open triangle), which will open the sharpness slider.

Finally, adjust the sharpness and save the result.
That's all! And. And, now you can easily run down the second method to knowing how to unblur pictures on iPhone!
Use the Photos App to Unblur a Photo on my iPhone
You may also use the native Photos app on your iPhone to improve your fuzzy image. This program is ideal for simple photo enhancement tasks.
By using this app, you will not only get improved quality of photos, but it will also enhance the clarity of your images significantly. To unblur a photograph on an iPhone, follow these steps:
Firstly, open your Photos app and find the fuzzy photo you wish to remove.

In the next step, to improve the sharpness of your photo, drag the control slider to the right.

Then press "Edit," then swipe right on the editing page's toolbar to select "Sharpness."

You can also change the contrast or brightness of the image (if necessary).

Finally, once you finished editing the photos, click on the Done button appearing on your screen.
As a result, all your changes made to the photo will get saved automatically.
That concludes your discussion. And, now you are done with the third method of knowing how to unblur an image on iPhone!
Use Adobe Lightroom to Unblur a Photo on my iPhone
Adobe Lightroom is a versatile program for making technical edits to images. This app suits the requirement of every person.
Perhaps, it's an ideal way for those who are seeking picture quality and is designed especially for skilled users. You may rapidly apply a filter or manually alter your photo's hue and lighting until it's ideal.
Adobe Lightroom is the greatest tool to study and experiment with if you want to spend more time editing photographs and learning what functions like Highlights, Hue, and Saturation do. To use Adobe Lightroom to unblur a photograph on an iPhone, follow these steps: 
Firstly, click the Detail panel after you've uploaded your shot to Lightroom. You'll find the Sharpening, Radius, and Detail options here, and you can modify your shot further down the line.
In the next step, sharpen and adjust the number of pixels around the edges of your shot using the Radius parameter. Only the largest elements in the photo are defined when Radius is set to 0! The Sharpening tool grows finer as your Radius increases.
In the third step, including the detailing of the image selected. With this, your photo's sharpness is also fine-tuned with the Detail setting.
The fourth step is increasing Detail sharpening even the tiniest parts of your image, rather than just the corners.
Finally, use the Light panel to make any color adjustments that will help to clarify and unblur the image.
That's all! And. And, now you can easily run down the fourth method to knowing how to unblur pictures on iPhone!
Use Fotor to Unblur a Photo on my iPhone
Fotor is another fantastic photo editing tool. It's also a well-known online photo editor. To make your photos less fuzzy, Fotor provides several image-sharpening features.
This program is available for free download with in-app purchases for premium features. Luckily, you will be glad to know an important aspect of this app. Are you eager in knowing what is it?  The thing is that the app is completely free for every user who intends to unblur an image on their phone.
Even, one of the most prominent features of this app is that a user needs no subscription for using the app to their best. To use Fotor to unblur a photograph on an iPhone, follow these steps:
Steps to use Fotor to unblur an image on an iPhone:
Firstly, open the Fotor app on your device.

In the second step, you need to slide over the screen and find the "Plus Plus"  option displayed on the screen. On finding the option, press and hold down for some time.

Then, from the bottom toolbar, touch "ADJUST" to fix your fuzzy photo.

Then pick "SHARPNESS" by swiping right.

Then, to boost the sharpness of your image, move the slider.

Now, you can also use other photo editing software (If necessary).

After you've finished, tap "Save."
That's all! And. And, now you can easily run down the fourth method to knowing how to unblur a photo on iPhone!
Tips and Tricks to Fix Blurry Photos
There are a few parameters you'll focus on while unblurring a photo. The most beneficial adjustments are to the photo's clarity and sharpness. However, one significant point you need to consider here is that balancing the contrast and exposure can help to get the clear and focused photo you desire.
Fade or grain may add beauty to your shot, as well as give it a filtered aspect that hides out-of-focus areas. Here's how to repair a blurry photo on your iPhone step by step:
Clarity Adjusts
The clarity of your image by eliminating large-scale noise. It's the greatest area to start your modifications because you only need to tweak the Clarity slider a bit to have a large effect.
Sharpen
Clarity's macro is the micro to Sharpen's macro. You can set this function to a high value without causing your image to seem skewed! Sharpening your image will aid in the definition of the image's tiny edges.
Make Adjustments to the Contrast.
Adjust the Contrast after you've raised the Clarity and Sharpened your image. This feature separates the light and dark parts of your image, making the entire image appear more clear.
Make Adjustments to the Exposure.
Your photo will most likely need to be brightened once you boost the Contrast. Also, if you see around various apps it is suggested to enhance the exposure modifications of your photo. This ultimately helps to balance the darkness which arises usually by creating an excess contrast to the photo.
FAQs
1. Can you turn out a hazy picture into a clear and optimized look?
Ans. To make a hazy photo look visible and for enhancing its clarity of it, you can find a few choices for doing that. Like, for instance, you can use a mask with a hazy edge all around in Photoshop. 
Or you can even use another editing software to make an edit to your photos. is one Another option is to utilize Photoshop's Gaussian blur effect.
2. Can you edit a fuzzy photo and make it look like a new one on your iPhone?
Ans. Yes, you can use your iPhone to fix a fuzzy shot. Photoshop Fix is the program you'll need for this.
3. Suggest a good way for making your photos turn blurry on your iPhone?
Ans. By altering the blur level in the camera settings, you may make your phone photographs hazy. In simple, you can easily blur a picture on your iPhone, for this, as a first and final step, place any finger over the lens of your camera.
Placing your finger on the lens while taking a photo, will automatically give a blurry effect to your photos on your iPhone.
4. Explain one easy yet a best method for unblurring your iPhone video instantly?
Ans. If you want to unblur your photo, you can try different ways to get an alarming photo. To smooth out the image, one option is to utilize a video editing tool.
However, there is one more option for unblurring your video. For this, you can visit any website that provides the service for unblurring your video.
And, now you are almost done. You just need to upload the blurred video on that website and that's all. I will instantly convert the video to unblur. 
5. On my iPhone, how do I blur a picture?
Ans. For blurring a picture, first, you need to go to the play store app. After that, you need to download the Photos app from the play store. After downloading the app, you need to create an account and thereby in the next step sign up with the account. Thereby, you need to open the app and click on the Edit option to blur your picture.
Now, after clicking on the option, you need to move the slider toward the bottom of the page. Now, you need to move the slider towards the left side, and use any of the filters appearing on the page. By using the filters, you can easily blur your picture, as you desire.
6. On the iPhone 12, explain the steps for unblurring a picture easily and instantly?
Ans. On an iPhone 12, there are a few options for unblurring a photo. One simple method is that you can use a blur removal app like Photoshop Express, Camera+, or other apps for removing the blur effect on your phone.
Another option is to use a blur removal application like Unblur. me. Finally, you may utilize the iOS Photos app to restore a blurred image.
7. Is it possible to fix a blurry photo?
Ans. Yes, you can. For this try to use an image editing tool like Photoshop or other apps. Using such an app, you can retrieve a blurred photo on your device and thereby start to edit the photo to your requirement. However, restoring the image to its previous quality may be tough.
8. Why are iPhone photos so shaky?
Ans. You will find several reasons why your photos turn out to be unclear or unfocused. One reason could be that you do not hold your phone rightly enough while taking a photo or clicking a snapshot. Another option is that the focusing functionality on your phone is malfunctioning.
Before taking the picture, you can try to alter the focus by touching on the section of the image you wish to be in focus.
Related Posts:
Final Words
On summing up I'd like to say that an unclear or unfocused image should not be a reason to bring your face dull side or sad.  There are applications for practically anything these days, even unblurring areas of a photograph. For your iPhone, there are a plethora of photo editing apps.
In this article, we've covered five distinct app, and Snapseed is our top pick. This app is completely free and includes a wide range of editing options.
However, sometimes you do want to blur a photograph on your iPhone, such as blurring a photo backdrop or pixelating someone's face, use a photo blurring app. Hope you enjoyed our blog and came to know how to unblur an image on iPhone easily and effectively.