How to Download & Install PokeMMO on iOS?
Hello readers! Many of you have expressed an interest in experiencing PokeMMO on your iOS devices. We understand the excitement and enthusiasm surrounding this popular game. With this in mind, we have crafted a comprehensive guide to help you. In this blog post, we'll walk you through the process of downloading and installing PokeMMO on iPhone/iPad, ensuring you can dive into the game with ease.
The world of PokeMMO offers countless adventures and challenges. But before you embark on your journey, it's essential to have the game correctly set up on your device. Let's get started!
How to Get PokeMMO?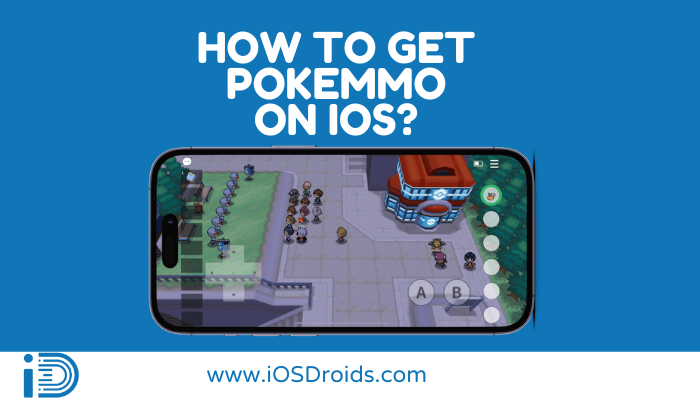 Video Tutorial:
Prerequisite:
To successfully install PokeMMO on your iOS device, you must first have AltStore installed. If you haven't done so, refer to our detailed guide on how to set up AltStore on your iPhone or iPad.
Steps to Install PokeMMO on iOS Devices:
Navigate to the official PokeMMO website.
Create an account by registering on the PokeMMO platform.

Proceed to the 'Downloads' section.

It shows the list of platforms. Select your platform as iOS.

Select 'Use Altstore'.

Download the PokeMMO IPA file by clicking on Download The IPA.

Open your File Manager, Go to Download, and locate the downloaded IPA file.

Perform a long press on the IPA file and tap on the 'share' button.

Choose 'AltStore' from the options presented.

The installation process for PokeMMO will commence. In the event of encountering an error with AltStore, simply connect your iOS device to a PC and repeat the aforementioned steps.


Congratulations! You've now successfully installed PokeMMO on your iPhone or iPad.
Important Downloads:
Download the following ROMS for the proper functioning of PokeMMO on your iPhone or iPad.
How to Play PokeMMO?
Open PokeMMO and it will give a list of ROMs to be loaded on your iPhone.
Click on Select File and then select the downloaded ROM.
Repeat the same process for all the 5 Fields.
Once you have loaded all the ROMs, click on the X button. This will restart the app.
Enter the Username and Password that you have used while registering on PokeMMO.
Now, you can start playing PokeMMO on your iOS Devices.
Related Posts:
Frequently Asked Questions (FAQs) about Installing PokeMMO on iOS:
What is PokeMMO?

PokeMMO is a massively multiplayer online role-playing game (MMORPG) that brings Pokémon adventures to life with other players from around the world.

Is AltStore required for installing PokeMMO on iOS?

Yes, AltStore is a prerequisite for this installation method, as it allows you to sideload the PokeMMO IPA file onto your iOS device.

Is installing PokeMMO through AltStore safe?

AltStore is widely regarded as a safe platform for sideloading apps onto iOS devices. However, always ensure you're downloading files from official sources to avoid potential risks.

Do I need to jailbreak my iPhone or iPad to install PokeMMO?

No, the use of AltStore eliminates the need for jailbreaking your device to install PokeMMO.

Are there any fees associated with playing PokeMMO?

PokeMMO is free to download and play, but there may be in-game purchases available for additional content or features.

I encountered an error while installing through AltStore. What should I do?

If you come across any installation issues, try connecting your iPhone or iPad to a PC and repeat the installation process as detailed in the guide.

Can I play PokeMMO with friends who have Android or PC versions?

Yes, PokeMMO is a cross-platform game, which means you can interact and play with friends regardless of the device they are using.

Is there a minimum iOS version requirement to run PokeMMO?

The required iOS version might change with updates. It's best to check the official PokeMMO website or AltStore for the latest compatibility details. However, it should work on iOS15, iOS16, and iOS17.
I hope these FAQs address the most common concerns and queries regarding the installation and play of PokeMMO on iOS.
Final Words:
Congratulations on successfully setting up PokeMMO on your iOS device! With the steps outlined in this guide, we aimed to provide a smooth and hassle-free installation process for our readers.
Your adventures in the PokeMMO universe are just beginning, and there's so much to explore and discover. As always, if you encounter any challenges or have further questions, don't hesitate to reach out. Happy gaming, and may your PokeMMO journey be filled with thrilling encounters!